The Atari 5200 Supersystem in the 21st Century!

2002 was the 20th anniversary of "PAM", the Atari 5200 Supersystem.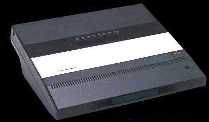 Atari 5200 development brought us four homebrews in the year 2002: Ronen Habot's Castle Blast, Mean Hamster Software's Haunted House II and Combat II, and my own game Koffi: Yellow Kopter. Mean Hamster's 5200 Klax homebrew was released in 2003. And in 2004, in addition to a slew of Atari 8bit ports to the 5200 including Donkey Kong and DK Jr, Castle Crisis was released, which is an excellent arcade-perfect port of coin-op Warlords!

Good luck finding some of these; Atari (formerly "Infogrames") has requested all those which infringe on their Intellectual Properties be discontinued. This happened in September 2004.





Koffi: Yellow Kopter!

Adventure II!
Atari Age Titles In Development!
Atari Age Store!
The VideoGameCritic Reviews!
Caféman's 5200 Features



Click on the coffee cup if you'd like to contact Caféman